Vertex and Oracle enjoy a partnership spanning 25+ years, over 1,500 mutual customers, and a common goal to help businesses of any size succeed at growing their commerce. Since 1992, Oracle and Vertex have continued to work closely together to provide their mutual customers with best-of-breed solutions for staying compliant and simplifying even the most complex tax.
As evidence of this meaningful partnership, Vertex and Oracle are mutual customers of each other's solutions—Vertex uses Oracle R12 while Oracle uses Vertex solutions for sales tax and payroll tax. 
Vertex is proud to be recognized as an Oracle Platinum Partner.

Benefits of Our Partnership

Vertex is aligned with Oracle development strategies to create solutions for companies of every size. For a range of Oracle solutions, Vertex integrations provide:

Reliable tax rules & rates
Calculation and compliance
Exemption management
Reporting
Seamless integrations to Oracle Solutions 
Flexible deployment options (On-Demand, Cloud, On-Premise)

Working closely with the Oracle development team, Vertex continues to provide those same robust capabilities on new platforms, such as Oracle ERP Cloud. This solution's architecture enables "cloud-to-cloud," easy-to-use integration between Oracle ERP Cloud and Vertex Cloud.

Integrations

For accurate sales tax, use tax, and VAT calculation, as well as reporting and exemption certificate management, Vertex solutions integrate with:

Oracle NetSuite SuiteCommerce
Oracle NetSuite OneWorld
Oracle JD Edwards World
Oracle PeopleSoft ERP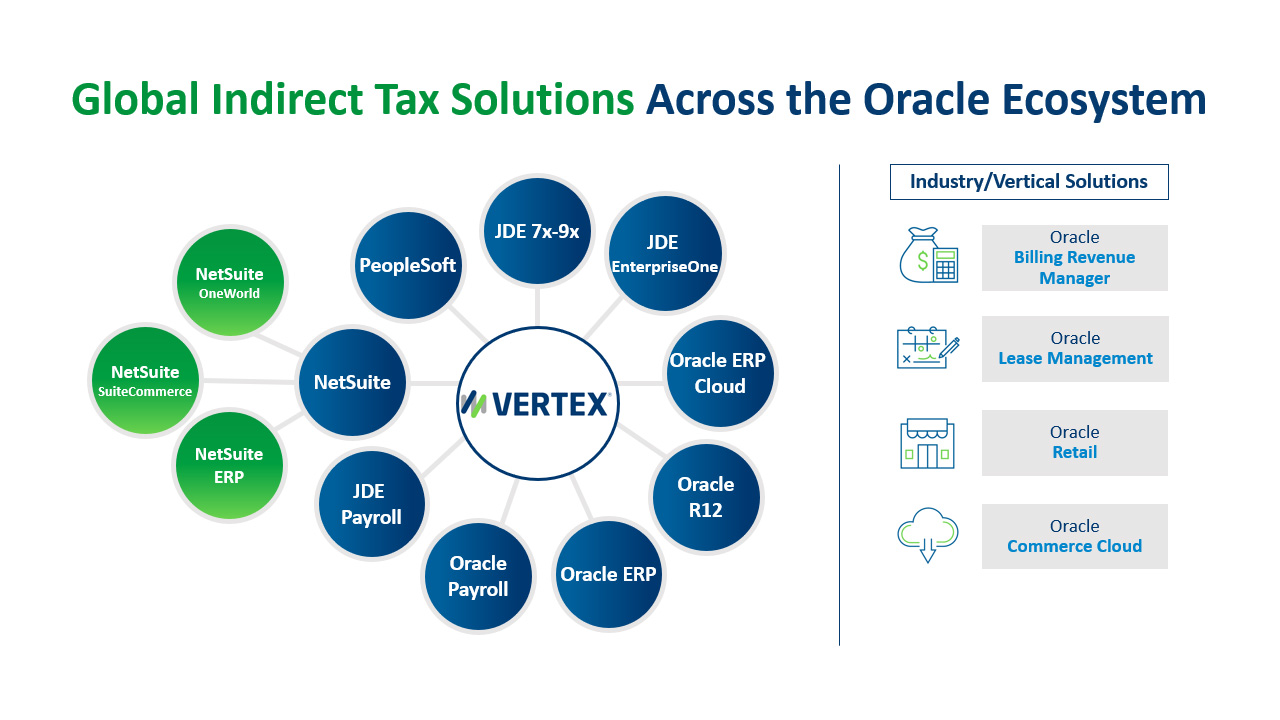 For more information on Vertex integrations for Oracle customers, visit the Oracle Cloud Marketplace.
Contact Us today to learn more about the benefits of Vertex solutions for your Oracle system.