Businesses face ever-changing tax legislation. Around the world, more and more items and services are becoming taxable, and some countries and states have made their tax structures increasingly complex. New legislation has required that businesses collect sales tax on all e-commerce trade.
How can your business stay current with these ongoing changes and ensure compliance, especially if you do business in multiple locations? The answer is Vertex Indirect Tax Solutions. Let Vertex keep your tax rates and rules up-to-date while you focus on growing your business.
Benefits of Our Partnership

SAP, a market leader in enterprise business applications, enables companies to manage their business operations with cloud, analytics, mobile and IT solutions.

Vertex, a leading provider of tax technology and services, supports the entire tax lifecycle to make tax a seamless part of a company's business transactions and client experience.

Partners for over 20 years, SAP and Vertex have enabled over 900 mutual clients to benefit from automated tax solutions that ensure accurate and consistent taxation across the enterprise and around the world. Vertex solutions integrate across the SAP ecosystem, creating a reliable and scalable platform for growth. Vertex has certified integrations to:

SAP Concur
SAP Business ByDesign
SAP HANA Enterprise Cloud

Vertex offers indirect tax solutions in multiple deployment options (On-Premise, On-Demand, Cloud), all providing consistent tax performance with each providing different benefits to meet the specific business and IT needs of the client. As a hybrid provider, Vertex can meet a company's needs now and into the future, to support their tax obligations with speed, efficiency and accuracy.

Benefits of Vertex Indirect Tax Solutions for SAP

Reliable tax rules & rates
Calculation and compliance
Exemption management
Reporting
Seamless integrations to SAP systems
Flexible deployment options

Additional Vertex Solutions for SAP

The Vertex Indirect Tax Accelerator for SAP ERP provides improved control and visibility over tax operations.
PLUS Tools (by LCR Dixon) optimize the integration between Vertex and SAP.
Diagnostax provides control and visibility over your transaction data and tax results.
Scout validates and converts your addresses and your existing jurisdiction codes.
FLUX Monitor keeps tax systems up-to-date and accurate.
Flex RFC easily processes your use tax adjustments with an integrated program.
Flex TAX connects the dots between your business events and your tax solution.
VENDORecon balances your invoices when differences arise between your tax system and vendor-billed taxes.
Vertex Tax Service for SAP provides a simple and powerful tax calculation service, delivered in the cloud, that can be used as a platform to drive growth for companies of all sizes.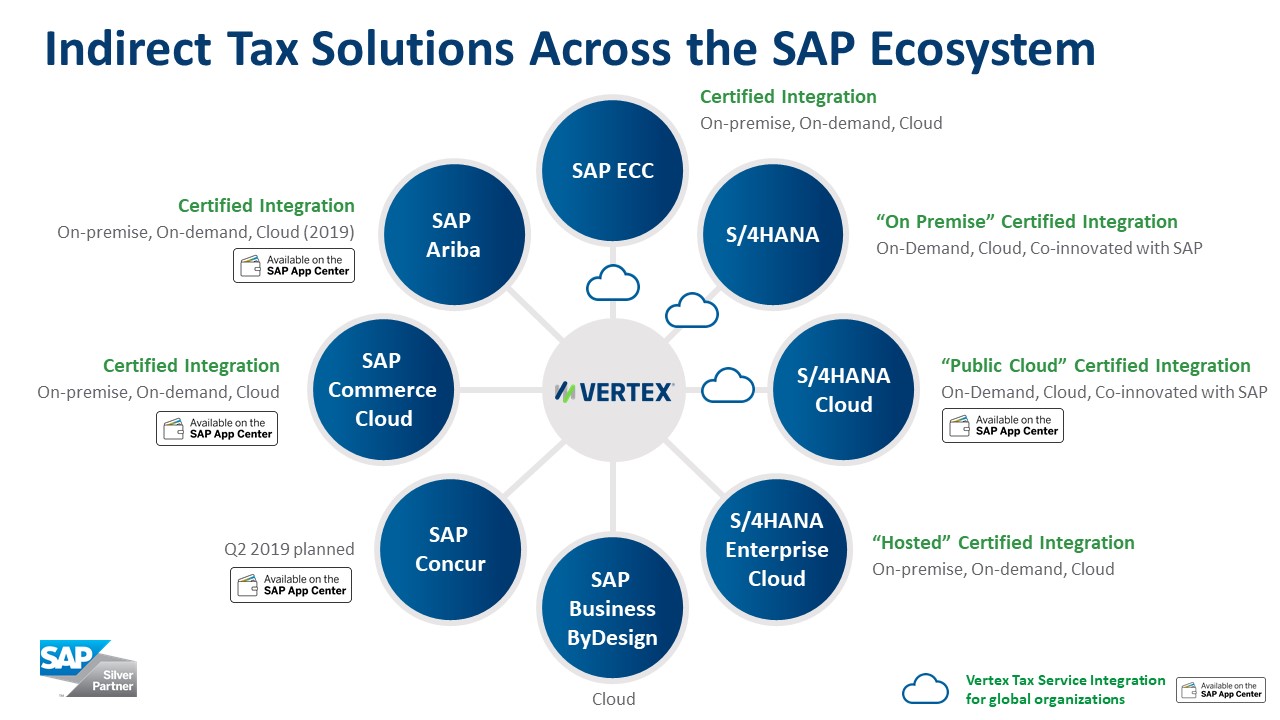 For more information on how Vertex works with SAP, visit the SAP App Center.