The relationship between Vertex and SAP has consistently delivered a seamless experience for customers for over 20 years.
Together, this partnership continues to enable 900+ mutual clients to benefit from automated tax solutions that ensure accurate and consistent taxation across the enterprise and around the world.
Vertex is proud to be recognized as a Silver Partner of SAP.
It all comes down to relationships and trust—and that has been at the core of our partnership with SAP for over 20 years.

Benefits of Our Partnership

SAP, a market leader in enterprise business applications, enables companies to manage their business operations with cloud, analytics, mobile, and IT solutions.

Vertex and SAP partner to offer customers the ultimate tax technology experience. 

Solution benefits include:

Reliable tax rules & rates
Calculation and compliance
Exemption management
Reporting
Seamless integrations to SAP systems
Flexible deployment options (On-Demand, Cloud, On-Premise)

Vertex offers indirect tax solutions in multiple deployment options (On-Premise, On-Demand, Cloud), all providing consistent tax performance with each providing different benefits to meet the specific business and IT needs of the client. As a hybrid provider, Vertex can meet SAP users' needs now and into the future, to support their tax obligations with speed, efficiency, and accuracy.

Integrations

Vertex solutions integrate across the SAP ecosystem, creating a reliable and scalable platform for growth.

Vertex has certified integrations to:

SAP Business ByDesign
SAP HANA Enterprise Cloud

Additional Vertex Solutions for SAP

Optimize your tax management with the additional solutions listed below, available exclusively for SAP customers to help achieve maximized ROI on technology investments: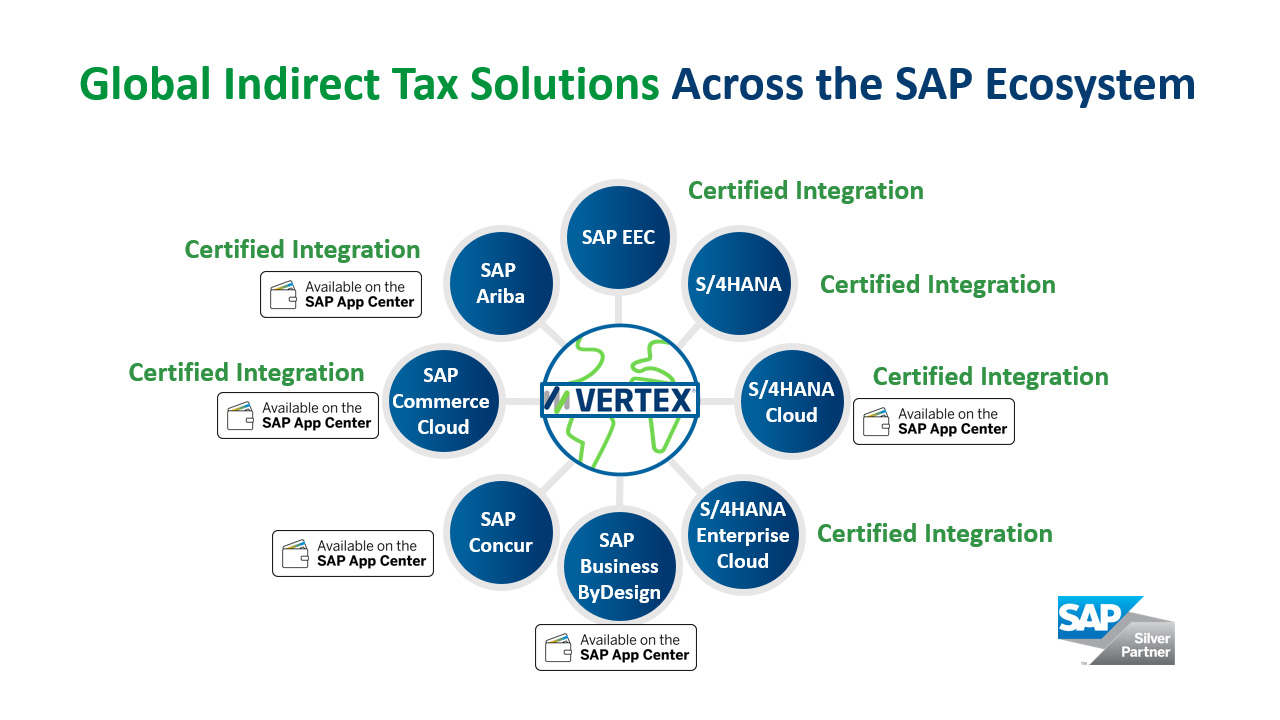 For more information on how Vertex works with SAP, visit the SAP App Center.
Contact Us today to learn more about the benefits of Vertex solutions for your SAP system.