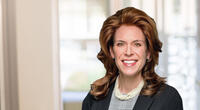 Ann Hollins
Chief People Officer
As Chief People Officer, Ann Hollins drives the company's people and culture strategy to accelerate business growth and achievement of our vision and mission. In her role, she is responsible for all aspects of the people and culture function globally, including talent management, total rewards, talent and leadership development, organizational development, culture and diversity, inclusion and belonging. Ann is an integral partner to executive leadership on innovative talent and organizational strategies to build an inclusive, engaging culture with empowered, high-performing teams globally in support of our growth aspirations.
Ann is a seasoned human resources executive with over 25 years of leading global, enterprise-wide HR strategies enabling business and organizational transformations across a wide range of industries, including healthcare, technology, energy, consumer packaged goods, information sciences and manufacturing. She has demonstrated expertise in the areas of organizational effectiveness, culture change, leadership development and strategic talent management.
Prior to joining Vertex, Ann held Chief People Officer roles at Zelis Healthcare, Volt Information Sciences and Weight Watchers and prior to that she held senior business unit and global center of excellence roles at Hess Corporation, Tyco, Dun & Bradstreet and PepsiCo.
Ann holds a B.B.A. in Industrial Relations/Human Resources from The University of Iowa, and an M.B.A. in Finance and Marketing from The Stern School of Business, New York University. She is Board Chair of the National Alopecia Areata Foundation and a member of the HR Policy Association. She lives in New Jersey with her husband and four young children.