Real-Time Tax Calculations in SAP Ariba June 2020
Enhancing your procure-to-pay processes through tax automation.
Jun 18, 2020
Webinar Details
Join our webinar hosted with the UK & Ireland SAP User Group on how a tax engine can help with real-time VAT validation in SAP Ariba to enhance your procure-to-pay process. Many businesses utilize SAP Ariba to process the procurement of materials and services simply and efficiently, particularly business overhead costs. However, there are various tax requirements and VAT rules and regulations that are constantly changing and need to be taken into consideration.
Additionally, the EU-wide trend towards the reporting of VAT to tax authorities in real-time is increasing the pressure for businesses to ensure that controls are put in place — ensuring invoices are processed and validated accurately. Learn how a tax engine enables real-time input tax validation for SAP Ariba.
Learn more about:
The VAT features within SAP Ariba
The pitfalls that occur in practice
How to avoid the pitfalls and resulting VAT risks in the procurement process
How a tax engine can be used for complex tax calculations
Case Study Demonstration of how the collaboration between SAP Ariba and Vertex O Series works
When: Thursday 18 June | 2:30pm - 3:30pm BST
Speakers
Roger Lindelauf | Business Development Director | Vertex Inc. 
Roger has over 30 years' experience working as an SAP VAT architect and senior consultant to large multinational companies such as Philips NV, Essent Trading International, Shell NV, and Meridian Global VAT services. Roger has strong experience in international VAT, SAP, understanding business requirements, and working with VAT automation solutions to translate highly complex business requirements into sustainable, future proof tax technology solutions. At Vertex, Roger leads the SAP practice to support best in class solutions and implementation for our clients.
Ellen Van Daal | Solutions Engineer | Vertex Inc.
Ellen has spent over 15 years in the arenas of international taxation and Tax Technology. She started her career at EY in The Netherlands and then worked in-house for a multinational real estate investment firm, where she was responsible for all different types of tax reporting (VAT & Tax Accounting) across the globe. Within Vertex, as well as VAT SME, she is a functional specialist on Vertex VAT Determination, Reporting and Data Management solutions, and works with both partners and customers.
About UK & Ireland SAP User Group (UKISUG)
UKISUG is a not for profit organisation for all SAP software users in the United Kingdom and Ireland. UKISUG is funded and run by the members, for the benefit of the members. Today, this user group has more than 600 organisations comprised of over 5,000 professionals.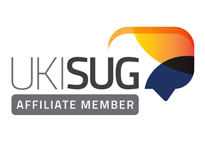 Not a member of UKISUG? Register here.
Learn about our SAP Partnership
We've partnered with SAP for over 25 years, enabling over 900 mutual clients to benefit from automated tax solutions that enable more accurate and consistent taxation across the enterprise and around the world.
Learn More