Ringing in a New Era for Vertex

Vertex has pioneered tax technology innovations for more than four decades. We're advancing that longstanding commitment — and our vision of accelerating global commerce one transaction at a time — as a publicly traded company.
We're honored to join the distinguished roster of companies listed on the NASDAQ stock exchange, where we now trade under the ticker symbol VERX.
This would not be possible without the support of our customers and partners. We're proud to serve more than 4,000 customers worldwide (including more than half of the Fortune 500), and we're fortunate to partner with many of the world's most respected tax, accounting and consulting firms and technology companies to deliver the best tax technology solutions on the market.
To these customers and partners, thank you. For trusting us to provide you with indirect tax solutions enabling you to transact, comply and grow with confidence. For co-innovating with us through four generations of technology. For making your voice heard at our events, user groups and through our customer surveys. Thank you for being part of our journey and our success.
Our decision to go public was straightforward. We believe that operating as a publicly traded company provides the maximum benefit to the entire Vertex community. As the digital economy continues to accelerate, as businesses expand and diversify, and as governments target indirect tax to fund essential services, we also feel the timing was ripe for our initial public offering (IPO). Our IPO further enables us to help our customers navigate the increasingly complex global commerce and compliance environment through the automation of end-to-end indirect tax processes.
On behalf of our 1,100 employees worldwide, we look forward to continuing to serve our customers with distinction and delivering world-class technology, content, integrations and customer experience.
While this milestone is significant, we view it as a natural manifestation of our vision and steadfast commitment to the Vertex community, who we intend to deliver even more value to, one relationship at a time.
Please remember that the Tax Matters provides information for educational purposes, not specific tax or legal advice. Always consult a qualified tax or legal advisor before taking any action based on this information. The views and opinions expressed in Tax Matters are those of the authors and do not necessarily reflect the official policy, position, or opinion of Vertex Inc.
Blog Author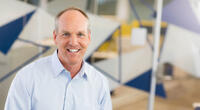 David DeStefano
President, CEO and Chairperson of the Board
View Newsletter Signup
About Our Company
Learn more about how we've connected great people and partners to deliver trusted tax solutions for decades.
LEARN MORE