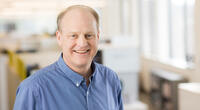 Michael J. Bernard
Chief Tax Officer, Transaction Tax
Michael Bernard is the Chief Tax Officer of Transaction Tax. In his role, he provides insight and thought leadership around tax department operations, U.S. indirect tax, tax risk management, and tax policy, as well as emerging tax trends. He is an executive-level tax attorney with a diverse portfolio of experience in corporate tax, administration, and finance, including a substantive knowledge of U.S. and international tax laws.
Prior to joining Vertex, Michael was in various tax leadership roles at Microsoft Corporation for 28 years, the most recent being Senior Director – Tax Counsel. Michael led teams in the following functional areas: direct and indirect tax controversy, sales and use, business license, property, tax IT, SOX, and telecommunications. He also co-led a corporate taxpayer advocacy group with the Washington Department of Revenue and was a Director on the Board of the Washington Research Council. Michael has also testified before administrative and lawmakers at both the federal and state level.
Michael earned both a J.D. and a Bachelor of Science in Business Administration from Creighton University. He is a part-time lecturer of Law in the LLM program at the University of Washington School of Law. Michael also served on the board of directors, executive committee, and chaired committees for The Tax Executives Institute (TEI) for nearly 25 years.