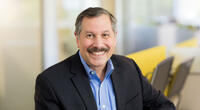 John Viglione
Former Senior Vice President, Strategy
As Senior Vice President of Strategy, John Viglione is responsible for the development of commercial and operational strategies, providing policy, industry, and trends analysis on issues affecting the organization, as well as business development and partner ventures.
John has in-depth knowledge of the software industry and is active in the technology and industry analyst community associated with global technology ecosystems. John initially joined Vertex as its Chief Technology Officer and led the vision for its flagship O Series technology, known today as Vertex Indirect Tax O Series, an on-premise, private, and public cloud technology platform.
Prior to joining Vertex, he spent more than 15 years within Fortune 500 companies, focusing on comprehensive enterprise IT initiatives.
John is an advisory board member of Penn State's College of Information Sciences Technology (IST) and the Philadelphia Alliance for Capital and Technologies (PACT), as well as a judge on PACT's Enterprise Awards Committee. John earned a B.S. from St. Joseph's University and an MBA from Penn State University. He is an author, frequent speaker, and advocate of new and emerging technologies.