New Business Models In A New Global Landscape
Global expansion offers important opportunities for retailers, but those that grow successfully share some key traits.
As we see more and more retail companies change the way they do business, new business models are emerging globally and at an astounding speed. These changes have direct and indirect impacts on processes and customer experience.
Too often, as they expand globally, organizations learn after the fact, that they're illequipped from a technology standpoint to overcome the challenges in front of them. True globalization spans much more than just language, currency and other obvious global differences.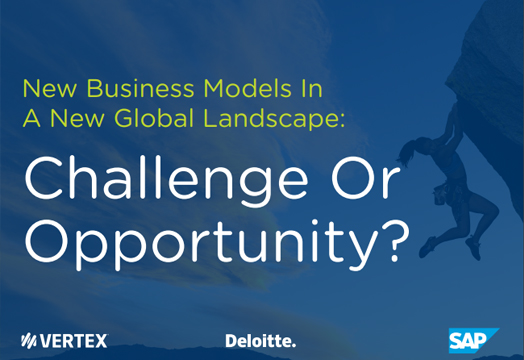 In this e-book we identify the challenges and opportunities this new landscape is uncovering and how they are impacting:
Platforms - ERP, e-commerce
Selling Models - Direct to consumer, Omni-channel, Brick & Mortar
Legislation - Real-time Reporting
Tax - Collection, Reporting
Customer Experience - Returns
By downloading this guide, you consent to receive future emails from Vertex, Deloitte and SAP. You may opt-out at any time.
Leading Solutions for Value Added Tax
VAT determination is no easy feat. To lighten the time, costs, and resources used for these global challenges, companies are turning to tax automation.
Learn More