We Heard You.
Vertex® Enterprise lets you model business scenarios, apply tax strategies, and see the impact on ETR and cash taxes in real time. Tax now has the predictive ability to influence business decisions like never before.
INTRODUCING A BREAKTHROUGH SOLUTION FOR INCOME TAX MANAGEMENT
Vertex® Enterprise is a powerful software solution suite, and a brand new approach, that can help income tax executives optimize the benefits of globalization and unleash the strategic potential of corporate tax.
This brand new suite of global tax management solutions is based on an entirely new software platform that's flexible and open to any vendor's tax software application. More importantly, it's built from the ground up specifically for the needs of Tax. It provides the data management and reporting capability the global tax executive needs, in a flexible, user-friendly system for provision, planning, audit defense, and more.
Vertex Enterprise is designed by tax professionals, for tax professionals, to help you manage income tax in a new way. A better way.
Vertex® Tax Data Warehouse is the foundation of Vertex Enterprise, providing a single source of data for all features and functions. It is the first commercial, off-the-shelf tax data warehouse that imports transaction data automatically and continuously from your ERP and financial systems, and exports data to multiple tax applications, regardless of which vendor's tax software you are using.
Vertex® Tax Accounting is a sophisticated global provision solution and powerful foundation for effective tax planning. This breakthrough technology improves provision accuracy and provides the depth of data needed to model tax planning strategies, enabling Tax executives to influence business decisions like never before.
Brochures & Whitepapers
Additional Product Offerings
Still have questions?
Contact Us at 800.355.3500
or Submit a Web Inquiry
Thought Leadership
Stay current on the information that matters most
Videos
The foundation and building blocks of Vertex Enterprise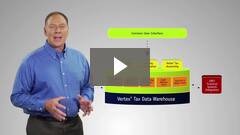 Learn How Tax Can Play a More Significant Role in Corporate Strategy