Vertex Services
Vertex Services delivers the expertise and dedicated attention to meet the specific business needs of your tax department. From daily product support services to comprehensive outsourcing solutions, Vertex Services brings together our tax, technology, and service expertise to move you forward, operating at the highest levels of efficiency and accuracy.
Managed Services
Vertex Managed Services helps tax departments gain efficiencies and mitigate risk through a range of scalable, outsourcing solutions that streamline the complex or cumbersome filing processes or problem areas that tax departments face. With a fast implementation, Managed Services handles it all and delivers business benefits that you see immediately.
Consulting Services
Vertex Consulting Services can help elevate your tax department from a cost-center to a high-value part of the organization through a range of services that supports you at every step of your tax management process, and provides you with measureable business results.
Training & Certification Services
Vertex delivers a full range of professional training courses that helps customers develop competencies to leverage your tax software investment. Whether on-site or online, our flexible learning environments can accommodate the unique needs of your organization and help you earn CPE Credits at the same time.
Tax Software Support Services
Available for Direct and Indirect Tax software solutions, Vertex Support Services provides you with the level of resources you need to answer questions, resolve issues, or alleviate emergency situations during critical times.
Still have questions?
Contact Us at 800.355.3500
or Submit a Web Inquiry
Thought Leadership
Stay current on the information that matters most
Videos
The foundation and building blocks of Vertex Enterprise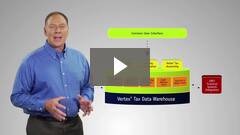 Learn How Tax Can Play a More Significant Role in Corporate Strategy